Aujourd'hui lundi de Pentecote ,il fait un temps magnifique ,nous tentons ,moi,et deux de mes fistons :Lucien (11 ans et Etienne 6 ans) une expédition brocante,moules frites et plage..Tout un programme...
Today is a beautiful sunny day... We try,me,and two of my sons ,on an expedition  fleas at Vergeroux ,restaurant and beach... What a program...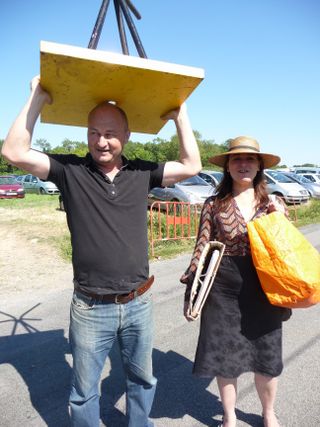 A peine arrivés nous croisons des amis chineurs Jerome et Eve ,beaucoup plus courageux,ils ont déja fini leurs achats...
First we meat Jerome and Eve... they were more courageous than us and arrived at 8am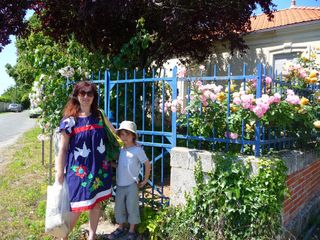 Pas grave,il y avait tellement de belles choses,2 heures apres nos cabats regorgent de trésors..; et nos porte monnaie sont vides..il est temps d'aller se restaurer...direction Les Boucholeurs ou  Etienne et moi avons repéré hier un sympathique petit restau en bord de mer
Anyway ...there were so much beautiful things to buy... maybe 2 hours later we finished ...Our bags are full and wallets empty...then we go to the restaurant...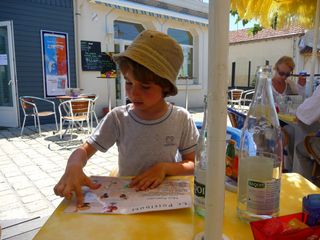 Etienne semblait plus interessé par les glaces que par les moules frites!!!
Ice creams are more interesting as mussels potates!!!